In the wake of a stringent crackdown on the cryptocurrency market, Bitcoin's value has plunged below the $27,000 threshold – a low not seen since mid-March.
On May 10th, US lawmakers convened for a joint hearing to address the fragmented regulatory landscape of domestic crypto regulation. The discussion centered on adopting a more proactive approach akin to Europe's model.
However, despite this market-wide volatility, two unconventional crypto projects are bucking the trend. AiDoge ($AI) and Ecoterra ($ECOTERRA), throughout the tumult, have held their ground – and exhibited remarkable price promise.
Bitcoin Continues to Navigate the Choppy Waters of Regulatory Pressure
It's been a challenging week for Bitcoin investors, with the coin's price down over 11% in the past seven days.
BTC is now trading at under $26,400 after crashing through the vital support region at $27,000.
Investors now worry that Bitcoin's value could continue plummeting – especially now that price is trading well below the 20-day and 50-day Exponential Moving Averages (EMAs).
One of the most significant events driving Bitcoin's price movements this week was US lawmakers' joint hearing on the future of digital asset regulation, held on May 10th.
In this hearing, lawmakers discussed the current crypto regulation in the States and pointed to the EU's "Markets in Crypto Assets" (MiCA) framework as an example of how digital asset regulation should be conducted.
Moreover, lawmakers admitted the current lack of clarity for crypto-focused firms in the US – a challenge already highlighted by exchanges like Coinbase.
During the hearing, attendees' views diverged on the US's next steps. While some advocated for immediate comprehensive regulation, others suggested a more cautious "wait and see" approach.
Ultimately, although the joint hearing indicates that lawmakers are taking crypto regulation seriously, it remains to be seen whether any real progress will be made this year.
Due to this, Bitcoin (and altcoin) investors are still in the dark as to whether their assets will be policed more heavily or whether they won't – leading to fear and uncertainty throughout the market.
This uncertainty has naturally contributed to BTC's price drops – with crypto analytics platform Coinglass noting that the average long/short ratio for Bitcoin across all major exchanges is now skewed in favor of sellers.
Time will tell whether Bitcoin continues plummeting or price rejects the rapidly-approaching 200-day EMA. Either way, it's a tough time for investors – a far cry from the bullish sentiment experienced throughout March.
AiDoge Defies the Odds with Cutting-Edge AI Meme Generator, Raises Over $6m
But while Bitcoin navigates these challenging times, certain fledgling projects are displaying resilience in this uncertain market environment.
First among these is AiDoge ($AI) – a novel cryptocurrency project that has maintained its allure, despite the bearish conditions.
As defined in the project's whitepaper, AiDoge aims to provide an AI-driven meme-generation experience for all users. Using advanced AI technology, AiDoge enables users to create custom memes using text-based prompts.
AiDoge's "meme generator" has been trained on enormous datasets and crypto news archives, ensuring that all created images are topical and humorous.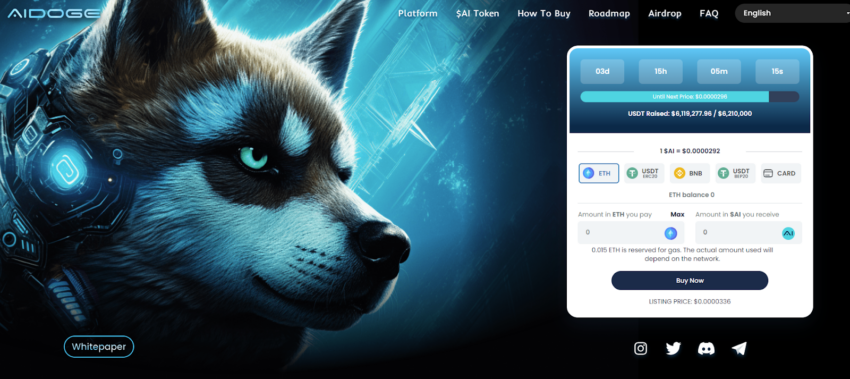 Moreover, since the meme generator uses text-based prompts, users don't need any photo-editing experience – it's simply a case of typing in the meme that they wish to be created, and it'll be produced in seconds.
$AI is the native token of the AiDoge.com ecosystem, mainly used to purchase credits required when using the meme generator. However, $AI holders can also stake their tokens to earn additional credits or use them to upvote memes displayed on the "public wall."
These features have got the investment community buzzing, with over 17,800 people opting to join AiDoge's Telegram channel.
However, the project is still in its presale phase, meaning prospective investors can only purchase $AI tokens through the official website. Stage 9 of the presale is ongoing, meaning tokens are priced at $0.0000292 – 15% lower than the planned exchange listing price.
AiDoge's presale has raised a staggering $6 million since launching in late April – and looks likely to add to that total in the weeks ahead.
Ecoterra: Highly Promising Green Crypto with Over $3m Invested so Far
Another crypto project that's standing firm against the current tide of volatility is Ecoterra ($ECOTERRA).
Ecoterra is a blockchain-based platform that incentivizes people to recycle and reduce their carbon footprint. The platform does this through two main features – a cutting-edge "Recycle2Earn" app and a Carbon Offset marketplace.
The Recycle2Earn app empowers users to recycle items via Reverse Vending Machines (RVMs) and earn $ECOTERRA tokens. Additionally, users can also accumulate fiat currency, thereby offering a dual earning opportunity.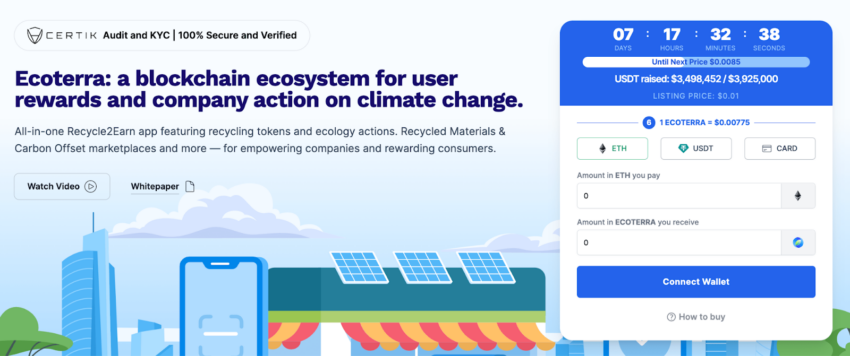 On the other hand, the Carbon Offset marketplace enables users to purchase verified offsets using their $ECOTERRA holdings. Carbon offsets are notoriously inaccessible, yet Ecoterra's team intends to make them obtainable to anyone, regardless of their status or experience level.
As specified by the Ecoterra whitepaper, the platform will also feature a recycled materials marketplace, where companies can easily buy repurposed assets and an "Impact Profile" that publicly details the environmental impact of every user.
Like AiDoge, Ecoterra is still in its presale phase. Ecoterra's presale will have nine stages, with Stage 6 now in progress – meaning investors can buy $ECOTERRA tokens for $0.00775.
With nearly $3.5 million raised already, there's a growing belief throughout the investment community that Ecoterra could be one of the most exciting eco-friendly cryptos to launch this year.
Disclaimer
This article is sponsored content and does not represent the views or opinions of BeInCrypto. While we adhere to the Trust Project guidelines for unbiased and transparent reporting, this content is created by a third party and is intended for promotional purposes. Readers are advised to verify information independently and consult with a professional before making decisions based on this sponsored content.