We round up the biggest stories in crypto this week. As Wall Street investors hold their breath for the first US spot Bitcoin ETF approval, on-chain data suggests companies stopped accumulating after major crypto collapses since then. The recent lack of big trades in the Bitcoin market has also seen its price fluctuate in a tight range, only seen in 5% of the asset's trading days. We reflect on the utility the Ordinals project has brought to the Bitcoin chain since its launch and take in a new effort to combat inflation in Zimbabwe with a gold-backed token. 
Lastly, we review the impact of the Evergrande collapse on China's economy and the recent lock-up that froze notable amounts of Ethereum on the Shibarium network.
Bitcoin Miners Sell Off as HODLers Finish Accumulating and Await ETF
Bitcoin stole most of the spotlight this week as miners sold off 1,400 coins to increase sell pressure. The move came as on-chain data provider Glassnode confirmed fewer than 5% of the asset's trading days had recorded lower levels of volatility than in recent weeks.
The asset has failed to sustain gains above $30,000 for most of this year and usually falls back to the sub-$30,000 range regardless of major events. That being said, the amount of Bitcoin accumulated by long-term holders has risen to 14.6 million, which accounts for 75% of the asset's circulating supply.
Market watchers opine that long-term holders expect a price rise when the SEC approves a spot Bitcoin exchange-traded fund (ETF). So far, the SEC has delayed ruling on an application by Cathie Wood's ARK Invest by 21 days.
Major Wall Street firms hoping for a green light include BlackRock, Fidelity, WisdomTree, Bitwise Asset Management, and Global X.
On-chain Forensics Suggest Bitcoin Whales Are No Longer Accumulating
On Monday, data from CryptoQuant suggested institutions had completed their Bitcoin accumulation. Since November 2022, institutions have not bought more Bitcoin despite a doubling of the asset's price. 
According to one analyst, this may be because companies do not need additional trades after securing their stockpile. On-chain data revealed that most of the Bitcoin accumulating occurred at market bottoms shortly after Terra Luna's and FTX's collapses. 
Transaction velocity patterns have also fallen from their peak in 2022, which could be a precursor to an uptrend in BTC price.
"In conclusion, $15,700, the low created after institutions mass-bought, seems to be the lowest point in this cycle, and if 'Token Transferred' and 'Velocity speed' increase along with price increases in the future, this is likely a precursor to an upward rally."
Zimbabwe Embraces Gold Token to Fight Currency Devaluation
While banks explore tokenizing real-world assets to speed up transactions using blockchains, others are restoring physical analogs that could be useful in combating inflation. The Central Bank of Zimbabwe this week announced a GBDT token it will back with gold bullion.
Learn more about blockchain tokenization here.
First proposed in April, the token is geared toward stabilizing the Zimbabwean dollar against persistently high inflation. The bank has issued 11 GBDT tokens and received almost 600 applications to buy tokens backed by 325 kilograms of gold.
The Bitcoin Ordinals Journey So Far
This week, BE[IN]CRYPTO took some time to reflect on the impact of the Ordinals non-fungible token (NFT) protocol on the Bitcoin network. So far, the protocol, which numbers satoshis to store NFTs on-chain, has inscribed over 24 million digital files.
The protocol's method of storing assets differs from the ERC-721 standard accepted on most EVM-compatible blockchains. Instead of an on-chain token referencing files stored on a server, Ordinals records data on satoshis from each transaction block.
The protocol leverages keystone upgrades of the Bitcoin network, including SegWit and Taproot. It stores data in the witness portion of a transaction. 
The project has attracted criticism from loud voices in the industry, including Blockstream CEO Adam Back. Others argue it deviates from Satoshi Nakamoto's original intent for Bitcoin to be a "peer-to-peer electronic cash system."
But promoters argue the protocol will bring programmability to the most secure and safe crypto asset. Among those bullish on the future of Ordinals are MicroStrategy CEO Michael Saylor and, until recently, altcoin maximalist Ran Neuner.
Crypto – Socially Speaking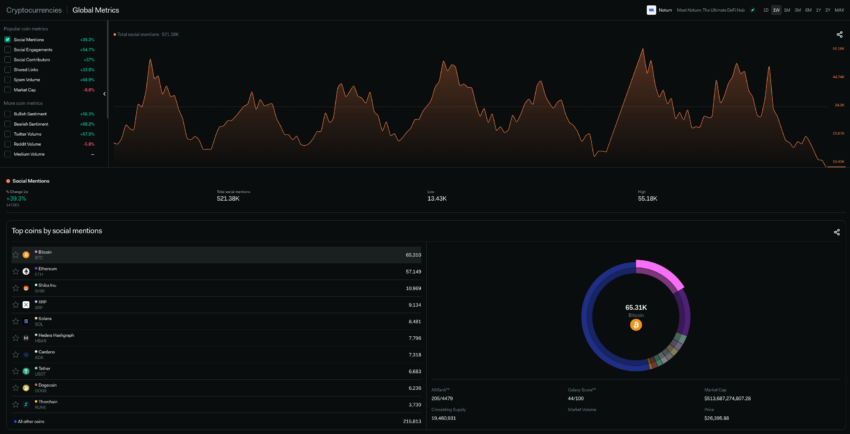 Pillar of Chinese Economy Goes Bust
In what may be the biggest story coming out of China this week, property titan Evergrande commenced Chapter 15 proceedings in the US. International companies file for Chapter 15 bankruptcies to protect US assets while restructuring debt.
The Evergrande group is the latest casualty of China's four-year real estate crisis caused by excessive borrowing. Last year, property developer Modern Land Co. also filed for Chapter 15 when it couldn't pay a $250 million bond.
SHIB Developers Slam Shibarium Network FUD
On Thursday, Shiba Inu's Shibarium metaverse went offline after excited users created thousands of smart contracts and transactions in a single block. According to the team, the system went into a fail-safe mode to protect user funds.
The SHIB team criticized news outlets for spreading fear, uncertainty, and doubt (FUD) about the incident and has promised to create a $2 million insurance fund when the system is restarted.
This Week in NFT News
In NFT news this week, plaintiffs in a class-action lawsuit accused Sotheby's of colluding with Yuga Labs to inflate Bored Ape Yacht Club NFTs' prices artificially. The plaintiffs allege the art auction house created the impression that BAYC NFTs had gone mainstream after selling 100 tokens to a 'traditional' buyer for $24 million.
Sotheby's has refuted the claim and intends to fight back. Pieces in the NFT collection can now be bought for under $100,000.
McDonald's has become the latest company to offer NFTs as part of Web 3 marketing expansion. First reported by Decrypt, the fast food chain will airdrop 2,000 unique Grimace collectibles through the Polygon network in Singapore.
McDonald's also previously launched its own metaverse world in the Sandbox.
The Crypto Top 10
This week's gainers were led by SEI, which increased by 1,900%. THORChain (RUNE) came second, with its price increasing by 33.32%. And in third place, Akash Network (AKT) was up 22.83%.
Internet Computer (ICP) token closed below the $3.50 horizontal area, causing an all-time low of $3.32 on Thursday. The price of SUI, the native token of the Sui blockchain, fell below a descending resistance line to $0.462 yesterday.
Meanwhile, APE has fallen below a bullish support level and shows no sign of a bearish pivot. At press time, the token was trading at $1.54.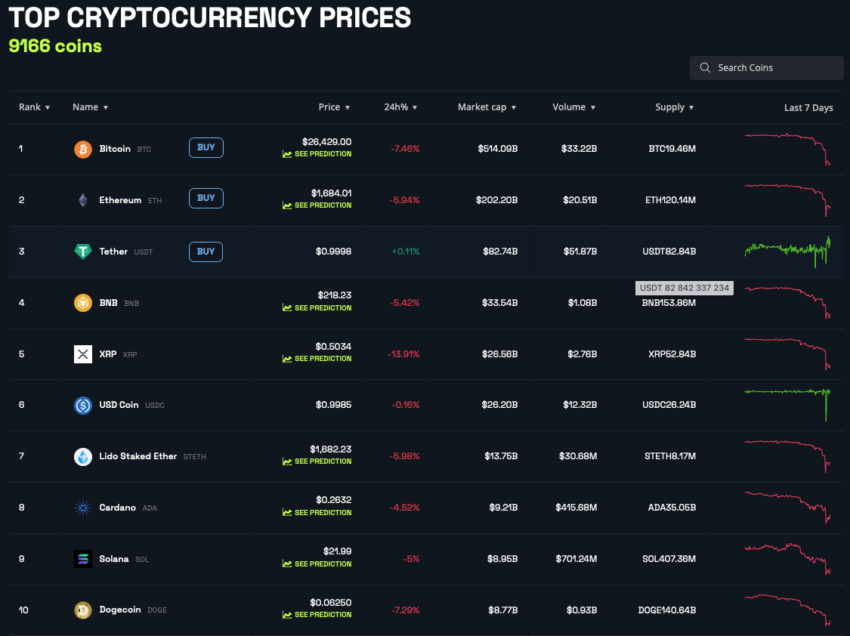 Got something to say about how whales accumulating Bitcoin, Zimbabwe's new gold token, or anything else? Write to us or join the discussion on our Telegram channel. You can also catch us on TikTok, Facebook, or X (Twitter).
Disclaimer
All the information contained on our website is published in good faith and for general information purposes only. Any action the reader takes upon the information found on our website is strictly at their own risk.