Ethereum price retraced 7% over the weekend as markets reacted to potential sell-offs from Vitalik Buterin and the ETH Foundation. But with long-term holders standing firm, on-chain data gives hope of a positive ETH price prediction.
Sudden exchange deposits Vitalik Buterin and the Ethereum foundation sent ETH price into an early retracement shortly after clearing the $2,000 milestone on May 5. But a deeper dive into the on-chain data suggests bullish Ethereum price predictions are yet to be invalidated. 
The next ETH bull rally could test the $2,500. Here are 3 reasons why. 
Long-Term Holders Remain Confident 
Firstly, the conclusion of the Proof-of-Stake Merge on April 12, ETH price corrections have often been closely correlated with selling actions from Ethereum's long-term investors. But this time, the data looks different. 
As Ethereum price dropped on Friday, long-term HODLing wallets largely remained unmoved. While ETH price retraced, the Mean Coin Age across the Ethereum network has risen on 3 consecutive trading days. 
Mean Coin Age evaluates the average days that all ETH coins in circulation have stayed in their current wallet addresses 
Looking at the chart below, while the price dropped 7%, ETH Mean Coin Age has increased from 33.95 to 35.65 between Friday, May 5, and May 8.
When Mean Coin Age rises, as seen above, it indicates that most long-term investors across the network are HODLing firm. 
While the recent price movements appear to be driven by short-term traders and speculators, the bullish conviction among long-term holders could soon set the positive Ethereum price prediction back on track. 
Ethereum Investors Are Looking for Buying Opportunities
Another factor pointing toward a bullish ETH price prediction is the volume of buy-orders investors have opened around current prices.
The Exchange On-chain Market Depth shows the number of buy/sell limit orders investors have placed across prominent crypto exchanges. 
As things stand, investors have placed active orders to purchase 203,400 ETH around the current prices. Meanwhile, sellers have only put 170,500 ETH coins up for sale.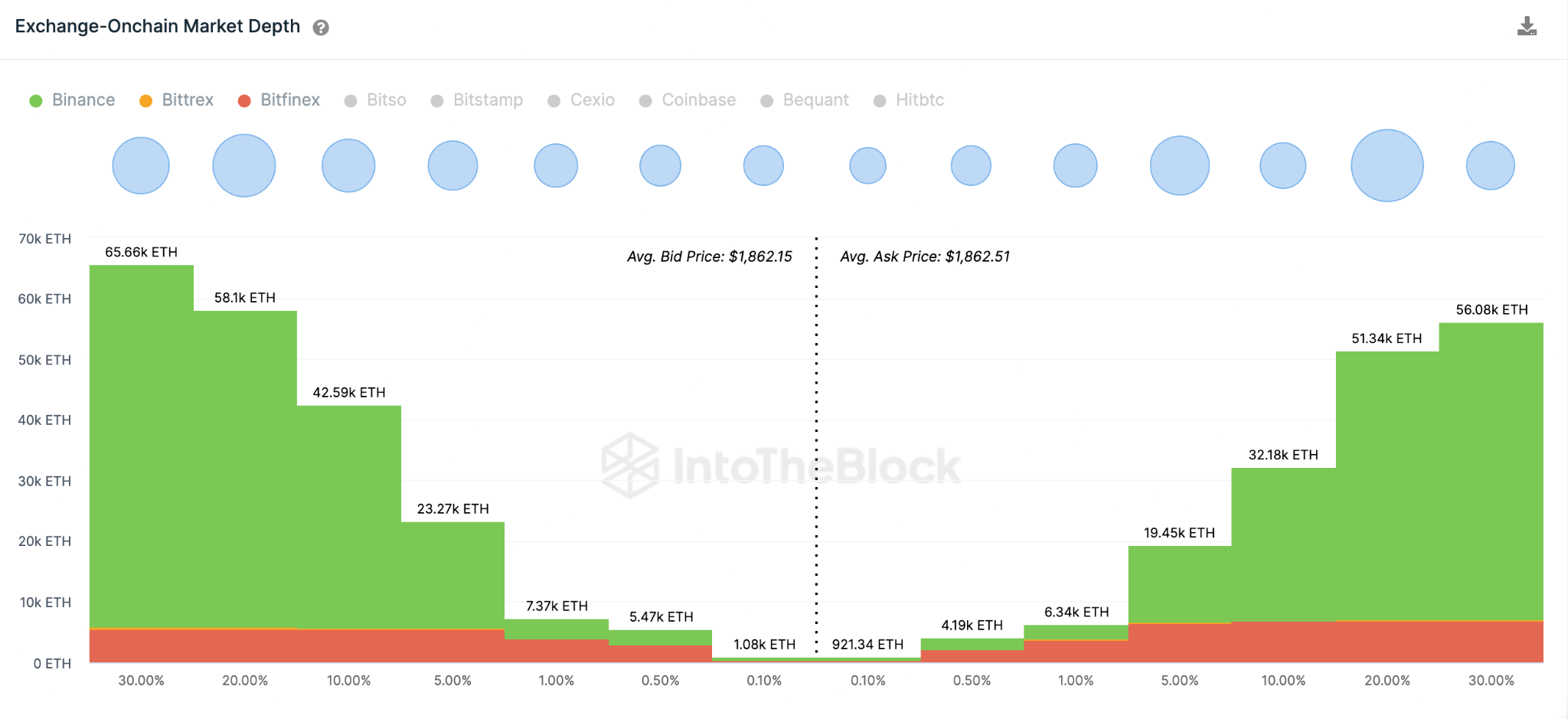 To reiterate, the Exchange On-chain Market Depth aggregates all the buy/sell orders currently opened across top exchanges.
With an excess demand of 32,900 coins, the Ethereum price will likely rise as buyers compete for the scarce supply across exchanges. 
ETH Price Prediction: A Rally Toward $2,500 is Still Viable. 
Lastly, despite the recent price correction, the underlying financial statistics reflect that ETH could be headed for an early rebound. The Global In/Out of the Money metric shows the distribution of all current ETH holders based on their purchase price. 
As things stand, Ethereum is likely to head for a rebound toward $2,500. But for holders to be confident of a bullish reversal, ETH must first surpass the $1,906 resistance level.
At that point, the cluster of 2.7 million addresses that paid an average price of $1,906 could sell some of their 8.8 million coins. 
But if the bullish price prediction is validated, ETH could rally toward $2,448 before facing more significant resistance. At that level, the 8.5 million addresses that bought 29 million ETH at an average price of $2,448 could form another sell-wall. 

On the flip side, if ETH loses its current support of around $1,790, the bearish trend could linger longer than expected. However, the buy-wall from the 2.9 million addresses that bought 3.6 million coins at the minimum price of $1,793 could look to prevent that. 
Although unlikely,  failure to hold this support level could see ETH prices drop further toward $1,468. 
Disclaimer
In line with the Trust Project guidelines, this price analysis article is for informational purposes only and should not be considered financial or investment advice. BeInCrypto is committed to accurate, unbiased reporting, but market conditions are subject to change without notice. Always conduct your own research and consult with a professional before making any financial decisions.