Apecoin (APE) price slipped to another all-time low of $1.16 on Monday, September 11, after recent community proposals failed to reignite investor interest. On-chain analysis explores the chances of a price recovery or if the bears will lower the price. 
With APE price hitting another all-time low of $1.16, the bears now look firmly in control. Is it the end of the road for the network that backs Bored Ape Yacht Club (BAYC), the top-ranked NFT collection project? 
No New Demand in Sight For Apecoin, Despite Community Proposals
On September 8, the Apecoin (APE) team announced "4 APE Improvement Proposals (AIP) up for vote," which included a proposed BORED AS F*CK documentary movie. While the votes for all 4 proposals are headed toward acceptance, on-chain data shows that investor FUD has heightened. 
In efforts to "expand the ecosystem," the Apecoin team has proposed to onboard creators and pay them in the native APE token. But on-chain data, this has not quite resonated with the global crypto community. 
Despite community proposals, the number of new users joining the Apecoin ecosystem has now dropped to historic lows. The Santiment chart below illustrates that Apecoin recorded a Network Growth (5d) of 258 on September 10, the lowest since the APE token's inception in March 2022. 
By aggregating the number of wallet addresses created over a period of 5 days, Network Growth (5d) estimates the blockchain network's user-acquisition rate. A decrease in Network growth typically implies that the underlying token will struggle to attract new demand.
As seen above, the recent community proposals introduced on September 8 have failed to ignite investor interest in APE. Instead, there has been a visible decline in new APE addresses created. 
If it persists, the APE token could struggle to find sufficient demand to propel it out of its current price downtrend.  
More Price Downswing Anticipated Ahead of $50M Token Unlock
On a more bearish note, Apecoin is expected to execute a scheduled unlock of 40.6 million tokens on September 15. Historical price trends suggest that investors have often intensified their selling pressure days before the previous token unlock event.
In the 10 days that preceded the May 17 token unlock, Apecoin price dropped by 13% from $3.80 on May 6 to $3.31 before bouncing to $3.50 toward the end of the month. 
The chart below shows a similar downtrend ahead of the July and August token unlocks.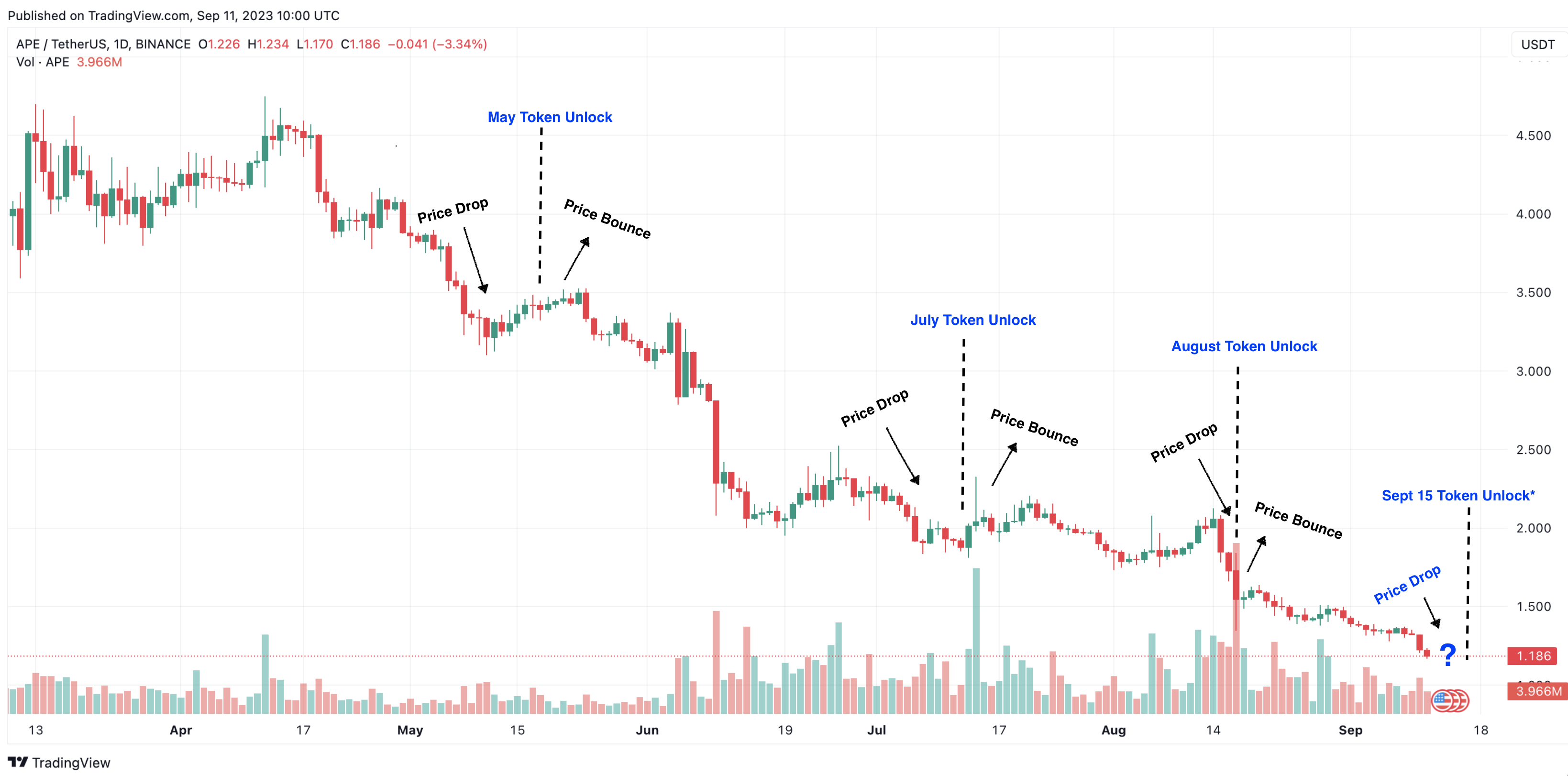 Token Unlocks involve releasing previously restricted or locked tokens into circulation. When a significant number of these previously locked tokens are released into circulation, it increases the supply of the cryptocurrency in circulation. If not met with a corresponding increase in demand, token unlocks can put downward pressure on the price as investors sell off.
Considering that Apecoin Network Growth (new demand) has now plummeted to historic lows, the bearish sentiment will likely intensify ahead of the upcoming September 15 unlock. 
APE Price Prediction: The $1 Support Could Cave In
With over 99% of APE token holders under water amid weak market demand, the APE price will likely drop under $1 in the coming weeks. From an on-chain perspective, losing the $1 support could mean the end of the road for APE price.
The Global In/Out of the Money Around Price (IOMAP) data, which depicts the entry price of current Apecoin holders, also confirms this stance. It shows that beneath the $1 level, the APE price has no significant support. 
As seen below, the 381 addresses that bought 1.78 million APE tokens at an average price of $1.23 are the last line of defense. The APE price could rebound if they can muster last-ditch inflows to cover their positions. 
 But if, as predicted, the bearish sentiment heightens ahead of the $50 million token unlock on September 15, Apecoin price will likely drop much further.
Still, Apecoin bulls can stage a comeback if the APE price rebounds above $2. But as seen above, the 19,000 addresses had bought 328 million tokens at the average price of $1.75. This cluster of buyers also represents the majority of the current circulating supply. If they look to close their position, APE price could retrace. 
Although unlikely, if that resistance level does not hold, the APE price could break above $2. However, the project will need some favorable news from its APE Improvement Proposals (AIP) if it expects to overcome such a massive resistance zone.
Disclaimer
In line with the Trust Project guidelines, this price analysis article is for informational purposes only and should not be considered financial or investment advice. BeInCrypto is committed to accurate, unbiased reporting, but market conditions are subject to change without notice. Always conduct your own research and consult with a professional before making any financial decisions.