When decentralized autonomous organizations (DAOs) first emerged a couple of years ago, many were talking about a paradigm shift in organization. Acting as internet-native entities, DAOs are founded and run entirely on open-source software protocols run on public blockchains like Ethereum. 
Through these transparent systems, DAOs allow coordinated groups to self-govern with minimal oversight. Members collectively propose and vote on decisions, enacting changes through coded rule sets without a traditional hierarchy. A living embodiment of the common blockchain maxim of "code is law" — with all its limitations.
DAOs Still Exist in a Legal Gray Area
While still an emerging concept, DAOs represent a major shift in how organizations can be structured and operate, say their champions. Proponents argue their decentralized nature makes DAOs more resilient, equitable, and efficient.
However, critics point to risks around the security of smart contracts, accountability, and legal uncertainty. 
Yet, in the view of Angie Malltezi, COO of Web3 startup Shipyard Software, one of the greatest hurdles is regulation. Currently, most regulatory issues facing DAOs at present revolve around determining their legal status and responsibilities within different jurisdictions, Malltezi told BeInCrypto.
Put simply, we're still not entirely sure what they are.
"DAOs present challenges in terms of identifying the issuing group's location and intentions, as well as understanding how the DAO operates and behaves," Malltezi said.

"The lack of a centralized authority and the global nature of DAOs make it difficult to establish clear legal boundaries and determine liability when issues arise. The intent behind creating a DAO and its actual usage are key factors that regulatory bodies consider when assessing the legal implications."
In the case of the United States, a DAO could potentially be treated as a general partnership, explained Malltezi. A legal arrangement that carries specific legal responsibilities such as fiduciary duty and duty of care.
"The complexity of these considerations is underscored by the fact that DAOs can be subject to different legal interpretations and expectations across countries and states. However, it is important to note that the legal landscape surrounding DAOs is still evolving, and specific cases and court decisions will shape future interpretations and ramifications."
DAOs Have Their Drawbacks
While DAOs don't have the superstar status and public visibility of NFTs or cryptocurrencies, they are no less controversial. Their defenders, including Vitalik Buterin, the founder of Ethereum (ETH), believe they can outperform traditional corporations in select cases.
Buterin argues that DAOs, which communally manage assets through member voting and not central leadership, bring efficiency and fairness. 
Although even the blockchain wunderkind Buterin has acknowledged that their governance can be inefficient and idealistic when compared to corporate boards. At their worst, they can be a not-so-ideal example of decisions made by committee.
On the other hand, they are a tech solution to tapping into the so-called "wisdom of crowds." A way of reaching higher-quality decisions with a more seamless, code-based mechanism. 
After all, DAOs are as varied and as diverse as the organizations they represent. Although, not everything needs to be a DAO.
DAOS Can Revolutionize Intellectual Property Management
Many projects hope to utilize the "wisdom of crowds" for intellectual property (IP) management in DAOs. Instead of centralized entities like developer studios holding IP rights, some DAOs actively choose to hold the rights themselves.
But why does this decentralized approach to IP management make sense? Malltezi shared her thoughts:
"Holding IP rights within the DAO aligns with the core principle of decentralization, ensuring that control and decision-making power over the IP is distributed among its members and not explicitly controlled by a centralized entity."
Rather than a top-down structure where executives or founders make unilateral decisions, DAOs allow for collaborative governance through mechanisms like on-chain voting.
Malltezi finds it useful to look at on-chain voting tools that help token holders with governance. Their math capabilities can ensure fairer voting, she said. Moreover, users can implement voting and settlement functions on-chain. This can help curb the ability of one whale holder to make all the decisions in accordance with his or her own interests, Malltezi observed.
To be sure, the problem of "whales" (or large token holders) distorting DAO governance is a very real one. As part of a DAO, token holders can vote on proposals to govern the organization.
Following the vote, smart contracts then autonomously execute the results. However, problems arise when wealthy token holders can buy more tokens and wield greater voting power. This plutocratic and selective voting eligibility based on token ownership risks skewed outcomes that may not benefit the whole community.
In fact, in a June 2022 report, Chainalysis found that across several major DAOs, less than 1% of all holders have 90% of the voting power. Not exactly the best advert for "decentralized" organizations.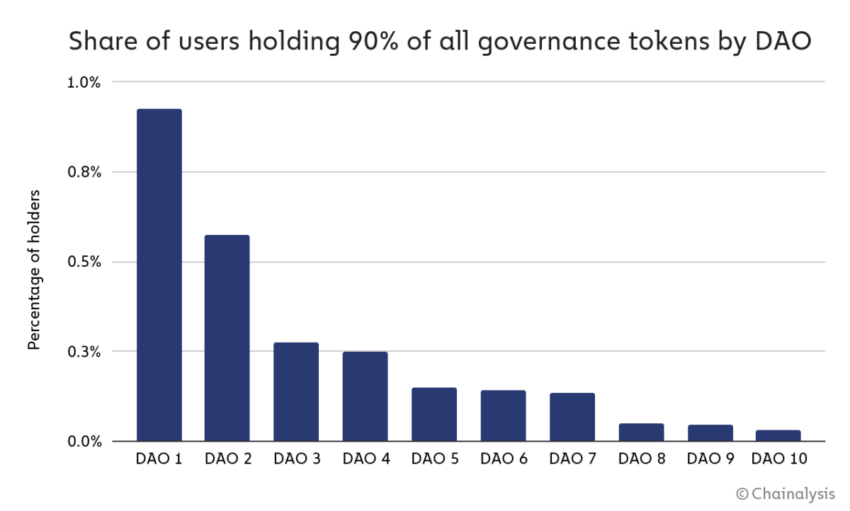 Oh, and There's the Added Benefit of Transparency
Having intellectual property management within a DAO structure adds another layer of transparency, said Malltezi. Furthermore, those in the space generally design Web3 projects to elicit community input and feedback from the beginning.
The result is greater buy-in, along with enabling projects to "build in public," she said. Malltezi went on:
"The pursuit of decentralization, and by proxy the requirement that you need users' input to determine value added activities, can get projects to product-market-fit really quickly. Much faster than if you were a centralized entity whose only interaction with a user might be via ad hoc user studies and surveys."
When reflecting on the limitations of DAOs, Malltezi is mindful of their human element. Much like a normal democracy, those involved in them must take note of who they're appealing to for votes. Part of that is DAO members making sure people aren't "overwhelmed with information," she said.
"When designing and managing a DAO, it's important to be sensitive to those principles and consider designing voting processes and proposals that don't waste voters' time, or ask them to vote on issues in which there is no immediate or clear way for them to get involved," Malltezi continued. 
Otherwise, it can lead to apathy and few active participants, she explained. And with a few, engaged members taking control, a DAO no longer really deserving of the term "decentralized" at all.
Disclaimer
In adherence to the Trust Project guidelines, BeInCrypto is committed to unbiased, transparent reporting. This news article aims to provide accurate, timely information. However, readers are advised to verify facts independently and consult with a professional before making any decisions based on this content.