Crypto news: Hopes of a long-awaited Bitcoin (BTC) spot exchange-traded fund (ETF) being approved took a step forward on the weekend when the Securities and Exchange Commission (SEC) officially acknowledged receipt of applications from BlackRock and Fidelity.
A Bitcoin ETF allows investors to gain exposure to Bitcoin without directly owning the cryptocurrency.
While the acknowledgment is by no means a guarantee the ETFs will be approved, it does mark a major milestone. Larry Fink, BlackRock's CEO, said the asset manager must democratize access to investments while comparing Bitcoin ETFs to the advent of gold ETFs. 
BlackRock ETF Gets Green Light?
Historically, the SEC has rejected Bitcoin spot ETF applications, which they claim can be susceptible to fraud and manipulative practices. But BlackRock in particular has an impressive track record with other non-crypto ETFs, so the decision by SEC will be watched closely.
That said, the process may not be plain sailing, as our writer Josh Adams explains. Earlier this year, the SEC took action against a BlackRock portfolio manager who allegedly failed to share a conflict of interest from his connection to a film distribution company, in which the fund he managed invested millions.
The investigation revealed that BlackRock Multi-Sector Income Trust (BIT), a publicly traded fund, had provided loans up to $75 million to subsidiaries of Aviron Group, LLC, which financed movie ads.
The manager, Randy Robertson, accepted the SEC's findings but neither admitted nor denied them. Furthermore, he agreed to pay a penalty of $250,000. The former BlackRock employee also accepted a cease-and-desist order and official censure.
Bull Run Starts Here
As signs of a new bull run start to emerge, a survey of Americans revealed 23% of respondents predicted that Bitcoin will hit an all-time high in the next year, while 47% think the flagship cryptocurrency will cross the $69,000 area in the next five years. A further 8% believe an all-time high will come after 2030.
And the bullishness continues for the broader crypto market, with 75% of the participants believing that the prices of crypto will be the same or much higher in the next five years. In contrast, only 16% of the respondents believe that the prices will be the same as now or much lower.
Crypto Coin News
It was a bumper week for Synthetix (SNX), which saw its value increase by 31%. XDC Network (XDC) rose 25%, and Maker (MKR) increased by 23%. The biggest losers were led by Rocket Pool (RPL) with a fall of 21%, Fantom (FTM) dropped 18%, and Lido DAO (LDO) tumbled nearly 15%.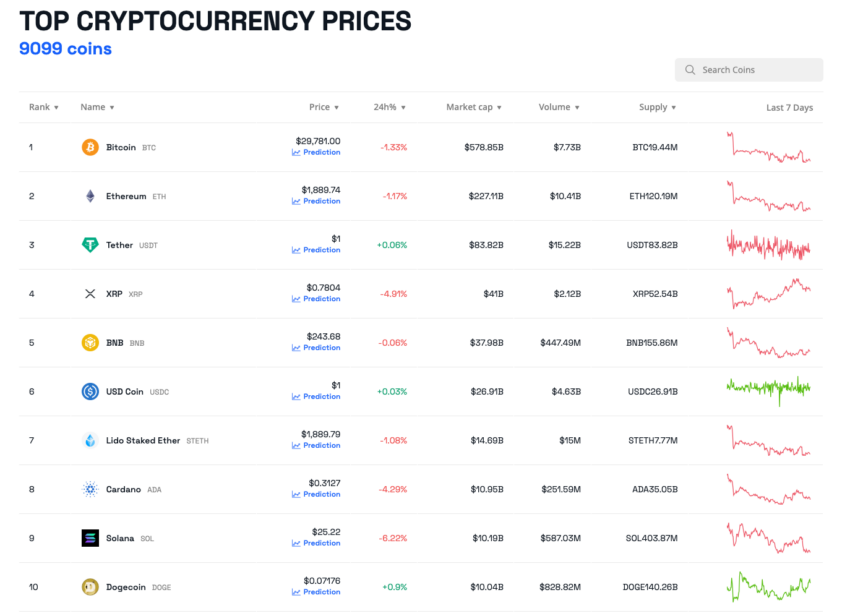 Ripple Beats Bitcoin
With XRP enjoying its moment in the sun following Ripple's partial victory against the SEC, its unsurprising trading volume increased to 21%, outstripping that of Bitcoin.
According to data from CoinMarketCap, XRP has recorded around $25 billion in total trading volume since July 13. The volume surge came after the court ruled that Ripple did not violate federal securities law by distributing XRP on crypto exchanges.
After XRP's partial victory on Thursday, the cryptocurrency has become fourth-largest based on market capitalization. Moreover, exchanges such as Kraken, Coinbase, and Binance.US have started relisting XRP. 
However, while the battle may have been won, the war is still far from over. Ripple still has to answer claims the company might have violated federal securities law by selling tokens worth $728.9 million to institutional investors.
Stupid Logic
ChatGPT may not be as smart as we once thought, if a report from Stanford University and the University of California, Berkeley, is to be believed. The colleges scrutinized the large language model for proficiency in various tasks, and came to the startling conclusion that ChatGPT may be getting dumber.
Diving into the specifics, GPT-4's mathematical problem-solving skills presented a shocking drop in proficiency when identifying prime numbers. Indeed, accuracy rates plummeted from a commendable 97.6% in March to an alarming 2.4% in June. 
In contrast, its predecessor, GPT-3.5, showcased a substantial improvement in the same timeframe, surging from 7.4% to 86.8%. The outcome confused experts who, rather logically, thought newer iterations of the chatbot would be more accurate.
New to ChatGPT? Get up to speed with our Learn guide.
When asked sensitive questions, the research depicted another intriguing angle. GPT-4 demonstrated a significant reduction in directly answering sensitive queries from March to June. This is indicative of a bolstered safety layer.
However, there was a noticeable truncation in its generated explanations when declining to answer. This prompted speculations about whether the model is erring on the side of caution to the detriment of user engagement and clarity.
Crypto News – Socially Speaking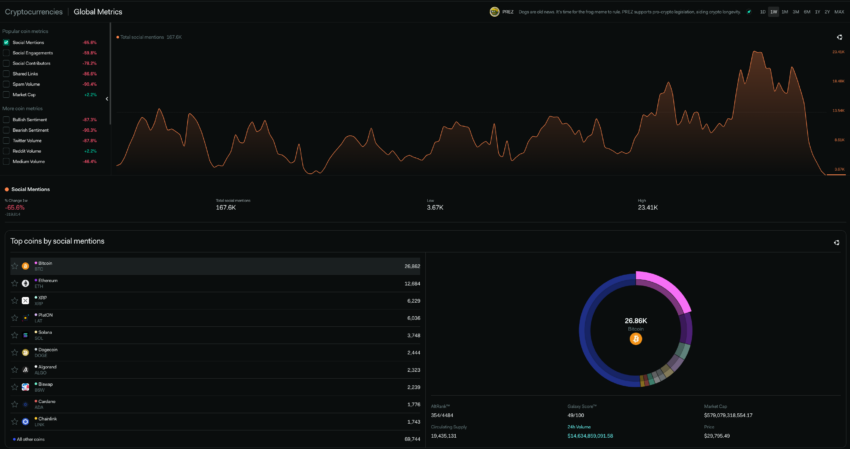 Disclaimer
All the information contained on our website is published in good faith and for general information purposes only. Any action the reader takes upon the information found on our website is strictly at their own risk.