Founder of North Rock Digital, Hal Press, criticized MicroStrategy's Bitcoin acquisition strategy, saying the company will eventually have to sell all the BTC it acquired.
According to Press, the business model is unsustainable as "every single one of Saylor's coins will need to be sold." He added that "when the time eventually comes it will be a career-making short."
The crypto-focused hedge fund founder noted that this wouldn't happen anytime soon and would take a minimum of a few years at least. Press further noted that there is a good chance that Michael Saylor's BTC bet could be profitable in the future.
He added:
"The idea of taking a software company and levering it to the gills to run a "Bitcoin acquisition strategy" is so comically stupid it's actually quite funny. Will be so obvious in hindsight."
Would ETH Have Been a Better Investment?  
Press' opinion generated diverse views, with some arguing that MicroStrategy's BTC acquisition could backfire. Others argued that the firm should have heavily invested in Ethereum instead.
A comparison page tracking MicroStrategy BTC purchase if it had been ETH shows that the company would have 3.68 million ETH by now. The ETH would be worth $6.883 billion compared to its BTC holdings' valued at $3.926 billion.
The company could also have made over 300,000 ETH valued at $561.6 million from staking the digital asset.
However, Press said buying ETH would just be as silly. He added:
"My point is that the structure is not sensible. Hijacking a public company and then levering it to acquire any asset in a way that adds nothing to it's core business just doesn't make any sense."
MicroStrategy Remains Bullish on Bitcoin
Meanwhile, the criticism surrounding MicroStrategy's Bitcoin strategy comes as the company's holdings stand at 140,000 BTC. Recent SEC filings showed that the company heavily purchased BTC during the first quart of the year and plans to acquire more as the year progresses.
The company's founder Saylor remains a BTC bull and has advocated for wider adoption of the digital asset. According to an April 1 tweet, BTC has outperformed other traditional assets like gold, silver, Nasdaq, S&P 500, etc., since MicroStrategy's adoption in 2020.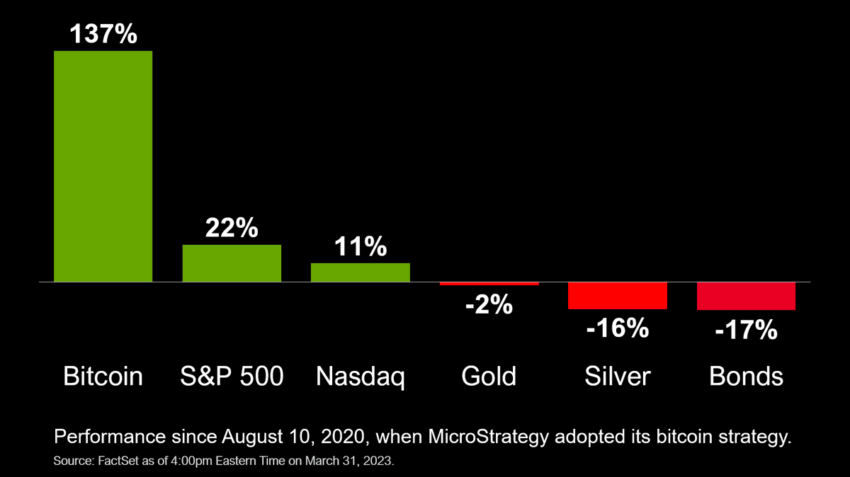 Institutional Investors Ape into MicroStrategy Stocks
Meanwhile, institutional investors are buying MicroStrategy's stocks to gain indirect exposure to Bitcoin. During the first quarter of the year, Fidelity and Bank of America acquired over $75 million of the company's stocks, according to Bitcoin Magazine.
MicroStrategy's stock MSTR is among the best-performing shares in the market — growing by over 80% on the year-to-date metric. MSTR's performance mirrors that of Bitcoin, up 72% in 2023.
Disclaimer
All the information contained on our website is published in good faith and for general information purposes only. Any action the reader takes upon the information found on our website is strictly at their own risk.