In less than 24 hours, nearly 10,000 Argentinians registered for World ID, powered by the Worldcoin ecosystem. This surge in sign-ups sets a new record for Orb verifications, the technology behind World ID.
Argentina's crypto-savvy populace seems to have embraced Worldcoin, but does this enthusiasm represent a genuine demand for global economic inclusion, or does it mirror the recent questionable fervor in Kenya?
Worldcoin Sign-Ups in Argentina Booming
Argentina has long been an innovator in the crypto ecosystem, owing to its dynamic tech infrastructure and a populace eager to explore decentralized financial solutions. World ID is an identity protocol that employs Orb verifications to digitally prove an individual's uniqueness without the need for personal data. 
This initiative aligns with Worldcoin's overarching goal of providing a global, digitally-verifiable identity to more than 4 billion people who currently lack one. The recent spike of 9,500 registrations in a single day exemplifies the country's openness to crypto innovations like Worldcoin.
"I think the first major thing that stands out is that Argentina specifically is one of the most crypto-forward countries in the world," said Worldcoin project co-founder Alex Blania. He continued:
"People are much more sensitive and much more understanding of the fundamental principles of crypto. It's a combination of having a very technologically advanced country in general and then also a crypto-forward country specifically, which makes it an explosive building ground for the next wave of innovation in this space."
Worldcoin's presence in Argentina isn't new. Orbs have been operational in cities including Buenos Aires, Mar del Plata, Cordoba, and Mendoza. Following Worldcoin's global launch on July 24, 2023, World ID verifications have seen exponential growth. Argentina contributed significantly to this trend, recording one new World ID every 9 seconds. This impressive adoption rate even led to World App, the project's wallet application, temporarily becoming the most downloaded app in the country.
However, Worldcoin's speedy adoption has not been without its controversies. In Kenya, a similar registration frenzy led the government to halt Worldcoin activities. It cited data privacy issues and the controversial offer of 'free money' in exchange for eye scans. 
A Rocky Start in Kenya
The situation caught the attention of Kenya's Communications Authority and prompted a government investigation into the cryptocurrency project. 
Interior Minister Kithure Kindiki said in a statement:
"Relevant security, financial services and data protection agencies have commenced inquiries and investigations to establish the authenticity and legality of the aforesaid activities."
People in Kenya were primarily attracted by the prospect of gaining free crypto assets, which calls into question the sustainability of Worldcoin's rapid growth in less affluent nations.
"I've been coming here almost three days to line up and register. I want to register because I'm jobless and I'm broke, that's why I'm here," Webster Musa told the BBC.
Furthermore, the Worldcoin token (WLD) has continuously depreciated since its launch, now trading at a meager $1.19.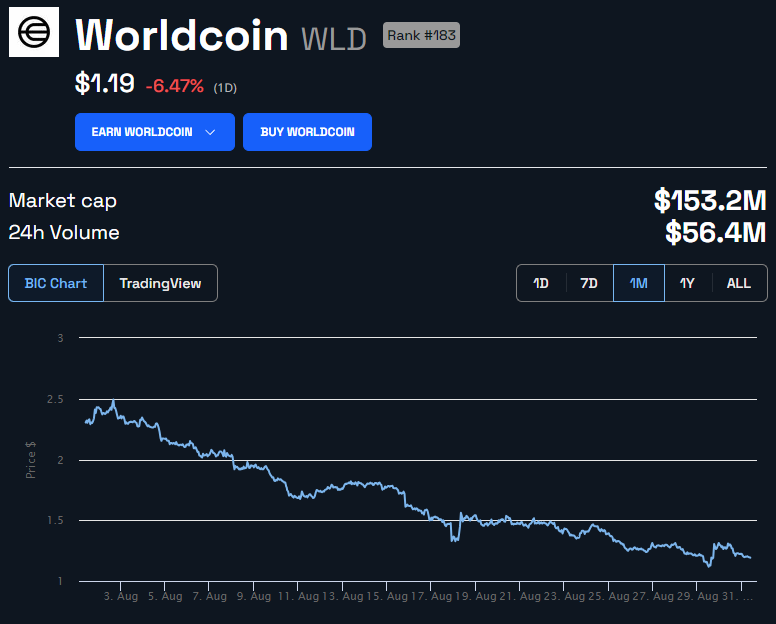 This decline raises doubts about whether the Argentine public's engagement is based on a genuine need for a secure, universal digital identity. Or is it all simply the allure of acquiring 'free money?'
The recent surge in World ID sign-ups in Argentina highlights the country's forward-thinking crypto mindset. But it also raises questions that parallel the challenges Worldcoin faced in Kenya. As Worldcoin founders, including Sam Altman, prepare to face a Kenyan parliamentary committee to discuss the project's legality, one wonders whether Argentina's enthusiastic adoption signals a legitimate demand or mere short-term curiosity.
Disclaimer
In adherence to the Trust Project guidelines, BeInCrypto is committed to unbiased, transparent reporting. This news article aims to provide accurate, timely information. However, readers are advised to verify facts independently and consult with a professional before making any decisions based on this content.
This article was initially compiled by an advanced AI, engineered to extract, analyze, and organize information from a broad array of sources. It operates devoid of personal beliefs, emotions, or biases, providing data-centric content. To ensure its relevance, accuracy, and adherence to BeInCrypto's editorial standards, a human editor meticulously reviewed, edited, and approved the article for publication.