Much attention has been paid to the recent trajectory of Pepe Coin ($PEPE), with many in the crypto community asking, "Is $PEPE dead?"
This question has arisen thanks to Pepe Coin's remarkable downfall, which now sees the token trading 65% lower than the all-time high posted on May 5.
At the same time as $PEPE's price slump, a new AI-powered project, yPredict, is causing a stir in the market – and has now raised a staggering $1.6 million through its ongoing presale phase.
Pepe Coin's Downward Spiral Stuns Meme Coin Investors.
CoinGecko data shows that the $PEPE price is now hovering around the $0.0000014 level, starkly contrasting the heady heights of $0.00000431 in early May.
A vast sell-off has occurred, with early investors seemingly happy to take profits and move on to the next meme coin project.
This has left many "holding the bag" and hoping for a return that looks unlikely.
According to GeckoTerminal, sell transactions outnumber buy transactions for $PEPE on Uniswap in the past 24 hours, while Etherscan.io data reveals a stagnant number of unique wallet addresses holding $PEPE tokens
These metrics underscore the dramatic decline of $PEPE – a decline that continues to be relentless.
$PEPE Price Outlook Remains Bearish as Investors Flock to New Projects
The $PEPE price chart indicates a downward trend, with momentum remaining low.
Price has rejected the resistance level at $0.0000021 twice in the past few weeks, then also created a minor resistance region at $0.0000018, formed on May 20.
The primary support level at $0.0000010 might provide some hope for a bullish comeback, but price would need to decrease by another 32% to reach this level.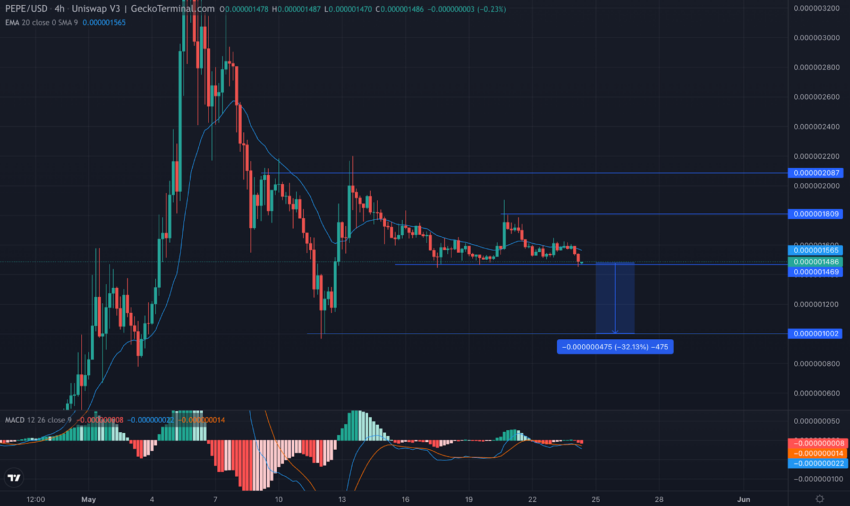 Adding more fuel to the fire, $PEPE has just crossed below the 20-day Exponential Moving Average (EMA). This EMA is often used as a proxy for the short-term trend – so the fact that $PEPE is now below it is a bearish signal.
The Moving Average Convergence Divergence (MACD) further aligns with the bearish forecast, with both the fast and slow lines situated well below 0 – indicating that selling pressure remains dominant.
Overall, the bleak price chart and bearish indicators suggest a challenging outlook for $PEPE holders in the weeks ahead.
yPredict Raises $1.6 Million and Prepares to Revolutionize Crypto Analytics with AI
Although the Pepe Coin price remains volatile, new players are constantly emerging, offering opportunities for crypto-savvy investors.
One of the most talked-about projects in this regard is yPredict ($YPRED) – a promising crypto analytics platform that has now raised over $1.6 million through its successful presale phase.
The recent volatility displayed by the meme coin frenzy has left traders seeking reliable ways to navigate precarious market conditions. Enter yPredict.
This blockchain-based platform leverages artificial intelligence (AI) and machine learning (ML) to provide data-driven insights for beginner and advanced traders. As a result, the yPredict platform gives traders the "edge" they need to make better investment decisions.
Per yPredict's whitepaper, the platform will feature multiple tools to help with this. These include real-time AI-powered trading signals, sentiment analytics on all popular cryptos, advanced indicators for optimal trading strategies, and even automatic chart pattern recognition.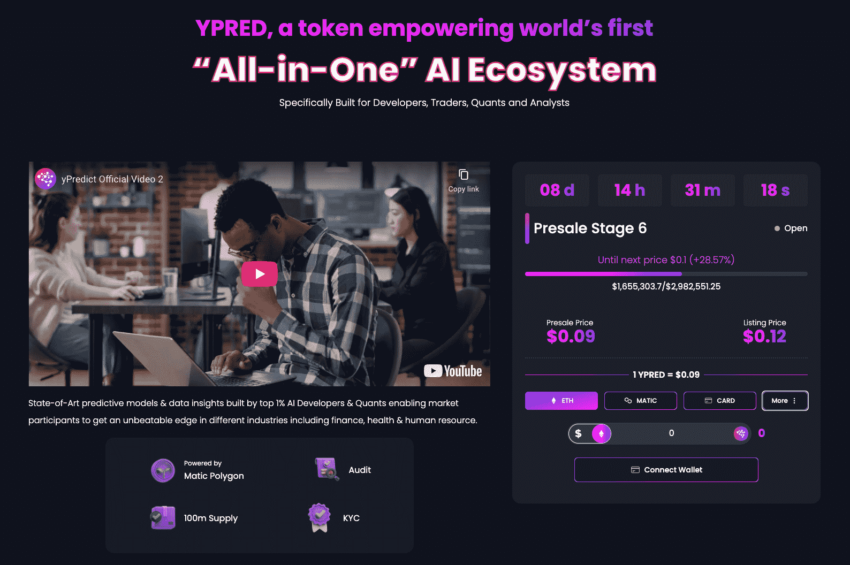 On top of that, yPredict will also feature an innovative marketplace where AI/ML experts can offer their predictive models to retail traders through a subscription service – with subscription fees paid in $YPRED, the project's native token.
$YPRED will serve as the heartbeat of the yPredict platform, with various use cases, including staking and governance.
The total supply of $YPRED tokens is 100,000,000, with 80% (80,000,000) reserved for presale investors, putting most of them in community hands.
These elements have created a massive buzz around yPredict, with over 20,000 users on the project's waiting list. Moreover, there are now 30,000+ people in the official Telegram community, indicating the solid backing the project has.
With yPredict's presale still offering tokens at a discount relative to the planned exchange listing price, investors have a limited-time opportunity to secure a stake in this promising project before its official launch.
Disclaimer
This article is sponsored content and does not represent the views or opinions of BeInCrypto. While we adhere to the Trust Project guidelines for unbiased and transparent reporting, this content is created by a third party and is intended for promotional purposes. Readers are advised to verify information independently and consult with a professional before making decisions based on this sponsored content.