Ripple (XRP) delivered a flat performance in February. The slow start to March 2023 has now raised major concerns among XRP holders. On-chain metrics suggest bears are poised to take control in the coming weeks.
On-chain data from the blockchain analytics platform Santiment shows a slight divergence between the XRP price action and network growth. 
Ripple (XRP) Early-2023 Rally Has Not Attracted New Demand
Network growth is a fundamental metric required to support the long-term viability of a given ecosystem. It measures the net increase in the number of participants that join a blockchain network over a period of time. 
XRP Network Growth significantly lagged behind price action during the recent January 2023 price surge. A potential indication the January rally was not driven by growth in new demand for XRP. 
From $0.34 on Jan. 2 to the year-to-date $0.42 local top on Jan. 23, the XRP price grew by 24%. But worryingly, Network Growth actually reduced by 27% within the same period. The divergence suggests price speculation – and not new demand – propelled the 2023 rally.
With the network growth declining again by 37% between February 1 to March 5, this dearth of new demand makes XRP particularly susceptible to a price correction in the coming weeks. 
XRP Price Volatility Tilts Towards November 2021 Crypto Crash Levels
Furthermore, on-chain trading data show that the XRP price volatility has declined toward the levels recorded during the infamous November 2021 crypto crash. 
The Price Volatility (4w) metric measures the four-week average changes in the dollar prices at which XRP tokens move between addresses. Periods of intense volatility have often coincided with recent XRP price rallies.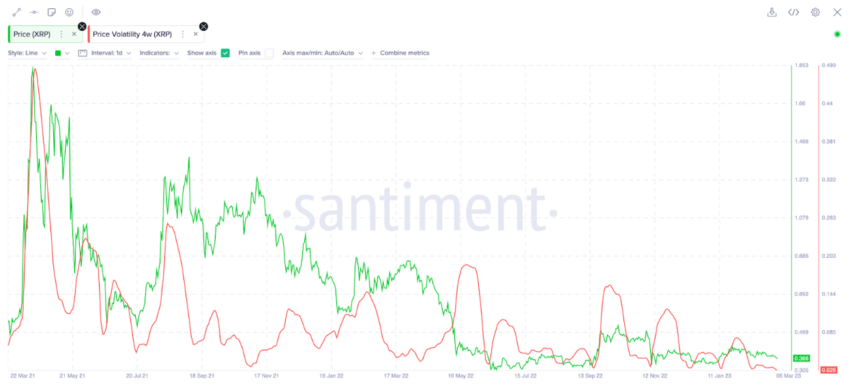 Price Volatility (4w.) was around 0.62 during the local top at $0.42. However, it declined sharply to 0.030 at the end of February 2023. 
Many crypto investors typically seek volatile assets because they move more quickly and have larger price changes. Hence, this level of price stagnation poses a major sell signal as XRP holders now brace for a potential downswing in the coming days. 
The $0.40 Resistance May Prove Daunting for Ripple (XRP) in March 2023
According to Santiment, the Market-value-to-realized-value (MVRV-30d.) data, which compares the ratio of an asset's Market Capitalization to its Realized Capitalization, gives an estimate of potential XRP price action.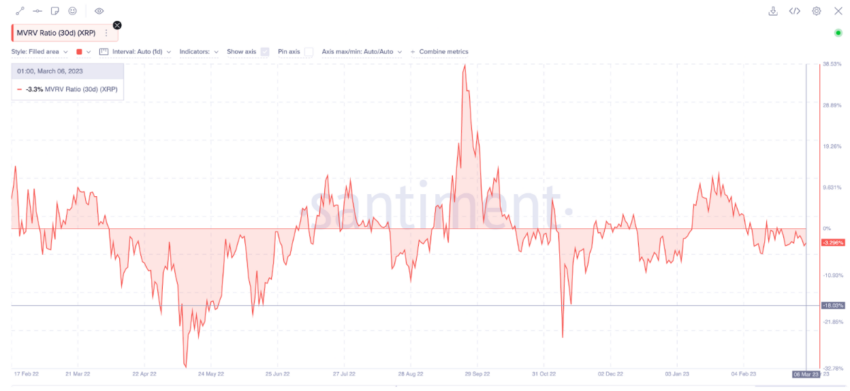 As the price hit $0.36, most holders who bought XRP in the last 30 days are sitting in loss positions of around 3%. Having exhibited a loss appetite of around 18% in the past, the token price is likely to drop toward $0.30. And failure to rebound at that point could see XRP sharply decline by another 12% toward $0.25. 
Conversely, the 13% to 23% profit lines are the major euphoric points for many XRP holders. This means that if XRP can break above $0.40, it can proceed into a major rally toward $0.46 before holders enter another profit-taking frenzy. 
Sponsored
Sponsored
Disclaimer
BeInCrypto strives to provide accurate and up-to-date information, but it will not be responsible for any missing facts or inaccurate information. You comply and understand that you should use any of this information at your own risk. Cryptocurrencies are highly volatile financial assets, so research and make your own financial decisions.