Crypto news: It was yet another week of regulatory shenanigans with the Securities and Exchange Commission (SEC) deciding to delay rather than deal with multiple exchange-traded fund (ETF) applications.
A Bloomberg analyst threw cold water on bullish Bitcoin predictions by arguing investors flocking to a vulnerable asset can cause it to nosedive.
Crypto influencer Ben Armstrong reportedly parted ways with the BitBoy Crypto brand, while public data surfaced on the ETH holdings of two notable corporates.
SEC Licks Wounds After Grayscale Defeat
But arguably, the most notable news came from the SEC's decision to kick all seven Bitcoin spot ETFs into the regulatory long grass for at least 45 days. The delay affects seven applicants, including the world's largest asset manager, BlackRock. Others include VanEck, WiseOrigin, Invesco Galaxy, WisdomTree, Bitwise, and Valkyrie Digital Assets.
According to the SEC:
"The Commission finds it appropriate to designate a longer period within which to take action on the proposed rule change so that it has sufficient time to consider the proposed rule change and the issues raised therein." 
The delay came just two days after Grayscale won an appeal against the SEC. The asset manager had sought to convert its Grayscale Bitcoin Trust (GBTC) into an ETF but was denied. But in a damning decision, the US Court of Appeal for the D.C. Circuit sided with Grayscale and said the SEC acted in an "arbitrary and capricious manner."
The ruling opens the door for the Grayscale Bitcoin Trust to move forward with listing on the NYSE Arca, the top US exchange for the listing and trading of ETFs. 
Crypto News – Socially Speaking
Read about the agency's case against Ripple Labs here.
ETFs are like a cross between mutual funds and individual stocks. Unlike mutual funds priced once at the end of the trading day, ETFs mirror the real-time price fluctuations of their underlying assets. Therefore, investors can buy and sell them as they would with regular stocks.
A regulatory green light could potentially lead to an explosion in the price of Bitcoin, as with an ETF, it becomes easier to gain exposure to the asset.
Bitcoin to $10k?
And if that news wasn't depressing enough, an analyst from Bloomberg weighed in to shoot down the claim that assets prone to vulnerability, like Bitcoin, can decline in price once the masses flock to invest.
He said:
"The lessons of high-performing, widely hyped assets show price reversion may be the greater risk once the masses jump on board. Up 26,000x in 12 years since first trading at $1 in 2011, Bitcoin compares with 130% for Amazon on a similar measure, but that took about 25 years." 
He added that the cold economic winds from China could lead to the next global bust. And if that happened, Bitcoin could fall to $10,000.  At the time of publication, Bitcoin's price is around $26,000.
Ben Armstrong Reportedly Parts Ways With BitBoy Brand
Earlier this week, crypto influencer Wendy O. confirmed that friend and fellow influencer Ben Armstrong had separated from the BitBoy brand. She said news on the future of the brand would be forthcoming.
Popular influencers Ran Neuner and Jason A. Williams from Around the Blockchain confirmed the news on X (Twitter):
"Effective immediately, Ben Armstrong will no longer be working with Hit Network/BJ Holdings and all subsidiary brands including but not limited to BitBoy Crypto and Around The Blockchain."

Wendy O August 28 Livestream: INSANE drama BITBOY leaves crypto? Bitcoin WARNING. Source: YouTube
Armstrong had previously got into trouble for verbally abusing lawyer Adam Moskowitz. Moskowitz represented class-action plaintiffs who sued Armstrong for his promotion of FTX before its collapse.
Arkham Intel Reveals Fifth-Largest Ethereum Holder
Blockchain intelligence firm Arkham Intelligence confirmed on Wednesday that the fifth-largest Ethereum (ETH) wallet belongs to crypto brokerage Robinhood Markets. The wallet holds about 1.5 million ETH, worth about $2.54 billion.
While it is unclear whether these are customer or corporate funds, Arkham said SEC regulations stipulate that customer assets must be backed 1:1. The brokerage was previously found to own the third-largest Bitcoin wallet.
OnlyFans Parent Fenix International Invests in Ethereum
A recent filing by Fenix International, which owns a video streaming platform OnlyFans, revealed a 2022 ETH investment. In its filing with the UK's Companies House, Fenix said:
"During the year, the Group diversified part of its working capital into cryptocurrency ("Ethereum" or "ETH"). There are no limitations or restrictions on the Group's ability to sell the cryptocurrency assets. "
The company joined several corporates with crypto on their balance sheets, including Tesla and MicroStrategy. The investment has lost about 70% of its value since being purchased at the end of November.
Top 10 Crypto Performers This Week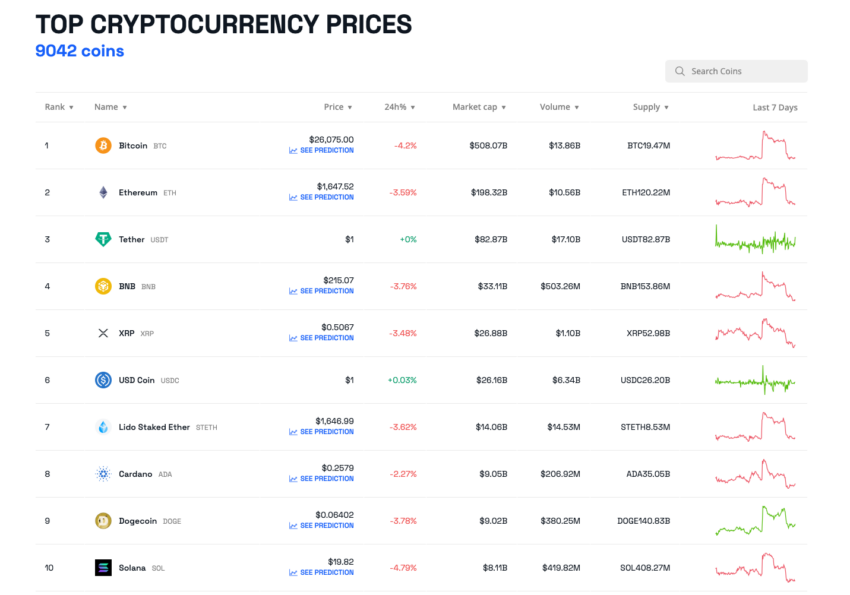 Got something to say about events this week in crypto or anything else? Write to us or join the discussion on our Telegram channel. You can also catch us on TikTok, Facebook, or X (Twitter).
Disclaimer
All the information contained on our website is published in good faith and for general information purposes only. Any action the reader takes upon the information found on our website is strictly at their own risk.